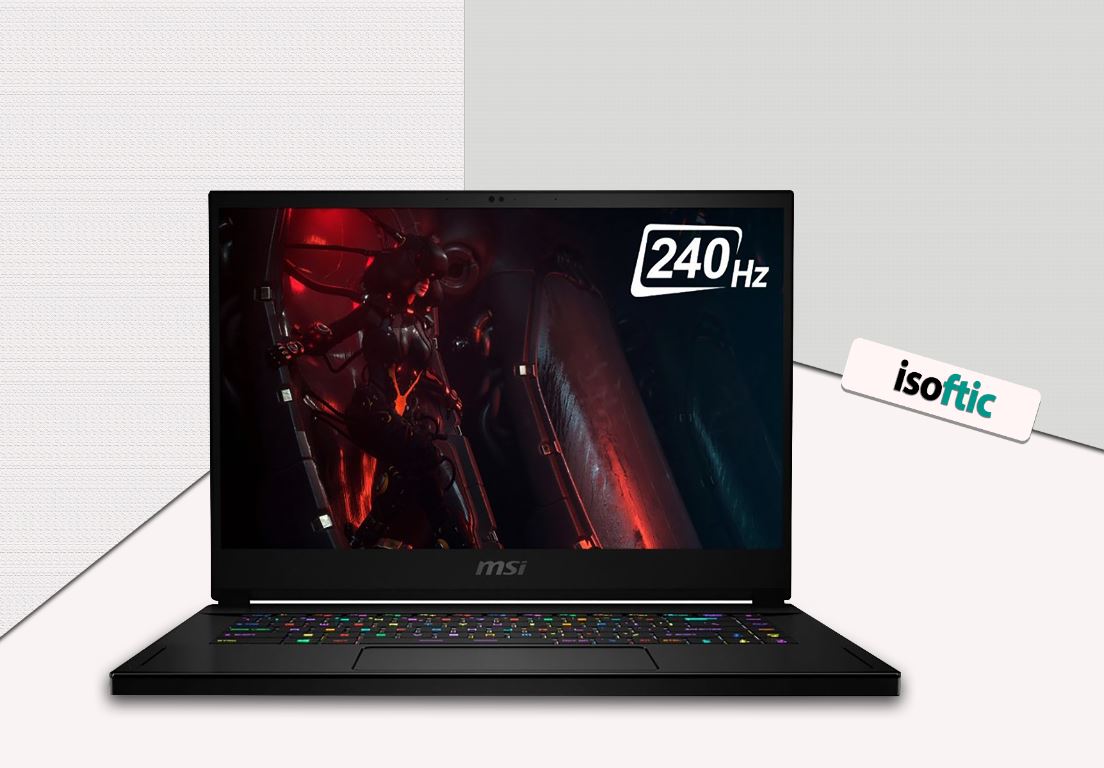 The MSI GS66 laptop is a sleek laptop that features the latest 10th gen Intel Core i9 CPU and NVIDIA GeForce RTX 2070 with MaxQ design Supergraphics. This machine also features a 99.9Whr battery paired with a 240Hz high refresh rate display, experience smoother gameplay, and brighter colors wherever you go. Unleashing its full potential, Cooler Boost Trinity+ with 0.1mm thin blades maximizes airflow to ensure stability under intense application usage.
MSI- GS66005 SPECIFICATIONS:
BRAND
MSI
MODEL
GS66005
PROCESSOR:
SPEED:
10th Gen Intel Core i7-10510H 2.6Ghz
STORAGE:
SSD:
HDD:
SSD M.2
1TB SSD PCIe (2 Slots).
none
PORT
Headphone Jack
Number of USB 3.1 Type A Ports
Number of HDMI Outputs

YES
3

1
MEMORY:
SLOT:
16GB DDR4 2666Mhz. (Maximum 64GB).
2
GRAPHIC:
SIZE:
NVIDIA GeForce RTX 2070 MaxQ
8GB GDDR5 VRAM
OPTICAL DRIVE
None
OPERATING SYSTEM
Windows 10 Home, 64-Bit
BATTERY
99.9Whr 4-Cells lithium-ion battery
DISPLAY:
RESOLUTION:
15.6″
FHD 1920 X 1080 240Hz Panel.
MANUFACTURER WARRANTY
1 Year
RELEASE YEAR
2019
BLUETOOTH
YES./ 5.0
SIZE
14.2 x 9.65 x 0.71 inch; W x D x H
WEIGHT
4.63 pounds
MSI- GS66005 REVIEW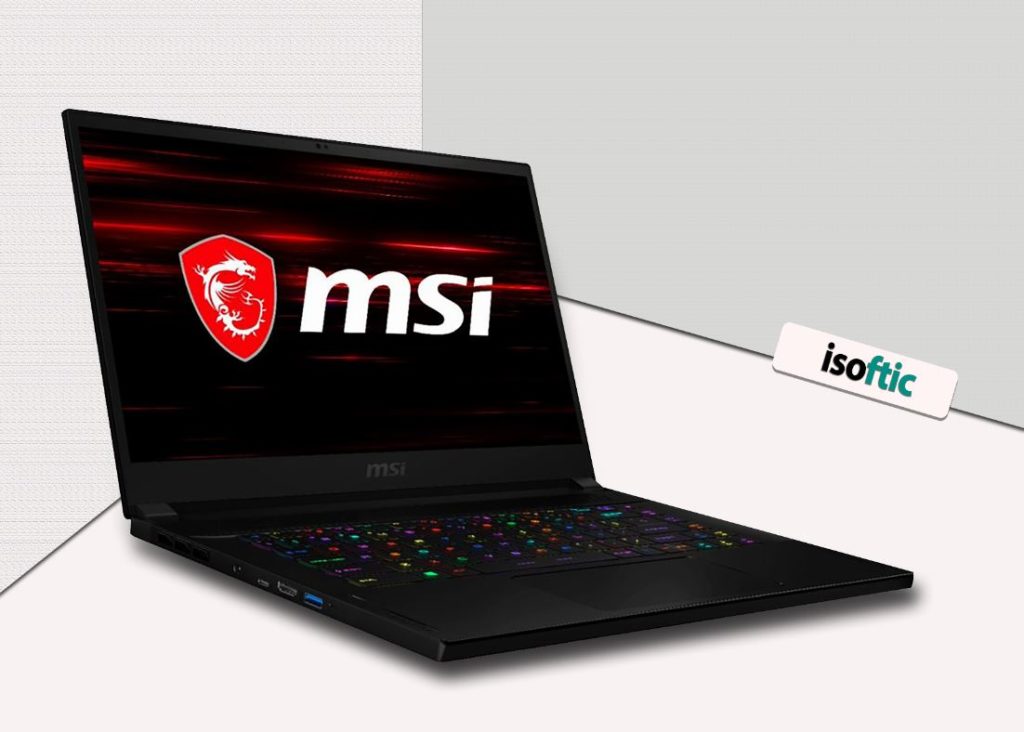 DESIGN
First thing you'll notice on seeing this machine is the beautiful matte black finish on the outer and inner part of the laptop making it live by the stealth tag of their system, even the logo of the computer seems to be on cloaks because it could be bearly be seen except the laptop is tilted a bit which looks cool. The device generally has a good build and seems very pleasing to the eyes.
SIZE AND WEIGHT
The size of the laptop is 14.2 inches wide, 9.65 inches in-depth, and 0.71 inches in Height. And the weight of the laptop is 4.63 pounds.
DISPLAY
The screen bezel on this device practically seems non-existent. The display itself is fantastic with a 240hz refresh rate, and the response time is a bit close to 3ms, which feels noticeably faster than other systems with the same refresh rates. It's also bright and has pretty good color accuracy.
KEYBOARD
The keyboard remains quite similar to their previous model of the system; though they had a bit more key travel on them, the mechanism is a little soft, meaning you don't need much force on a key while pressing on them. There's no Numpad on this keyboard layout. The trackpad has a satisfying firm click and is more extensive than those on previous models.
SOUND
The speakers are located at the bottom part of the keyboard deck just at the tail end by the sides of the trackpad. They only project out from the top of the keyboard layout. No sound comes out of the bottom part of the speakers. The sounds were able to fill a quiet room and are averagely ok for the price point of this laptop's configuration.
PROCESSOR
For the performance on this device, the Cinebench R15 test was used to determine the power of the processor. Also, it was fully threaded to make use of all available processor cores and threads. The result came out pretty nice for the 10th gen CPU, proving this CPU suitability for more processor-intensive workloads. But the sad thing about the 10th gen processors is that it does not support under-volting.
GRAPHICS
The gaming performance is quite good with the Nvidia GeForce RTX 2070 MaxQ featured on this system configuration. The graphics card does a good job of pushing out a high frame rate during gameplay, and combined with a 240Hz refresh rate on the screen delivers a very fantastic gaming experience. The card also has a total of 8GB of video memory.
STORAGE
The MSI GS66 has two spaces for PCIe SSD which can house 4TB of SSD storage each but seriously, why would you need that much, considering the price point of a 4TB SSD. The SSD's are quite fast and would deliver a smooth rendering of graphics during gameplay and content creation.
PORT
The port configuration on this device also changed, there's two USB Cs (one of them supporting Thunderbolt 3), three USB As, an ethernet jack, the headset/microphone jack, and the AC adapter is mounted at the righthand side of the laptop.
MEMORY
it's dual-channeled slots with 16GB ddr4-2666 RAM, can be upgraded to a maximum of 64GB.
BATTERY
The battery on this machine can be said to be the most significant a gaming system could have, housing a 99.9Wh battery and delivering about 7Hrs of usage in just surfing and other stuff. But when gaming could go up to 3Hrs of usage. It's still advisable to get the system plugged in while gaming, though, but overall this battery is the best out there.
CONCLUSION
This is a reliable gaming laptop. MSI also offers accidental-damage protection. Regardless of MSI's awful tech support, it's still the only company to provide free accidental-damage protection.
Stepping up innovation. MSI is spearheading gaming laptops by keeping its bezels super-thin while maintaining the webcam's sacred placement. MSI's Ambient Link technology is also pretty impressive. This machine would be a good bang for your buck.