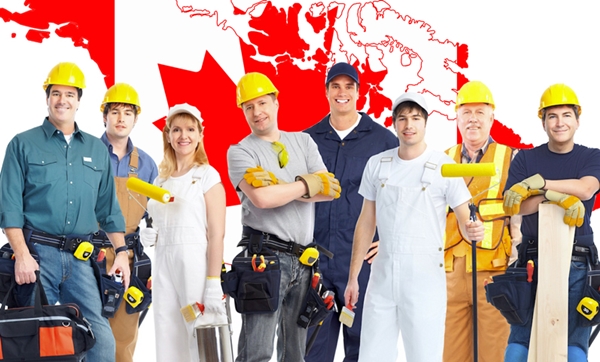 Canada Skilled Federal Trades Program for all Nationalities is aimed at people who wish to become permanent residents (PR) of Canada. This only applies to people who qualify in a skilled trade. There is no restriction on location in the Canada skilled Federal trades program. In this article, we are going to provide you with all the necessary information you may need in your application process.
Minimum Requirements
You must:
Plan to live outside of Quebec (The province has its own Quebec Skilled Worker Program);
Meet the language requirements for English and French;
Have two years' work experience in a skilled trade (or an equal amount of experience in a part-time position;
Have work experience within the past 5 years;
Meet the job requirements in the National Occupational Classifications;
Have a full-time job offer from a Canadian employer for a minimum of one year; or
A certificate of qualification for that skilled trade that is confirmed by the Canadian provincial or territorial government authority
Skilled Work Experience
These skilled trades are involved in the Federal Skilled Trades Program as ranked by the National Occupational Classification.
Job Group Numbers and Description
72 Industrial, construction, or electrical trades
73 Equipment operation and maintenance
82 Technical and supervisors in:
-Agriculture
-Natural resources
-Production
92 Processing, manufacturing, and utility supervisor
Central control operators
Education
You do not need a specific qualification for this program, but you can earn more CRS points if you have:
An Educational Credential Assessment (ECA) approved by IRCC; or
A Canadian certificate, diploma, or degree
Language Ability
Pass the Canadian Language Benchmark test at minimum language level;
The language test must be approved by IRCC; and
Your test results must not be older than two years when you apply.
Be assessed by the province or territory
Each of the provinces or territories has different requirements for the skilled trade industry.
What is a Provincial Nominee Program?
A Provincial Nominee Program (PNP)is an immigration program in its own right as well as a means of potentially adding up to 600 points to your CRS score. This will essentially guarantee you receive your ITA at the next draw.
In Canada, different provinces require foreign workers with different skill sets as Canada's workforce in certain provinces can't provide for some of the gaps in the labor market. As a result, 11 out of Canada's 13 provinces offer PNPs. To receive a provincial nomination, you must live and work in the province you've been nominated by. Getting a nomination largely depends on your occupation and whether or not it's in demand in that province. Consult the map below to see where your skills are needed most.
To apply for a provincial, you need to submit an expression of interest for the province you want to live in when you create your Express Entry profile or apply directly to that province.
Conclusion
Now you have everything you need to start your journey to getting permanent residency in Canada. To help ensure your eligibility, validate your documentation, improve your CRS score and have helped through every step of your Canada Express Entry application process, click the button below to get started.
Good Luck