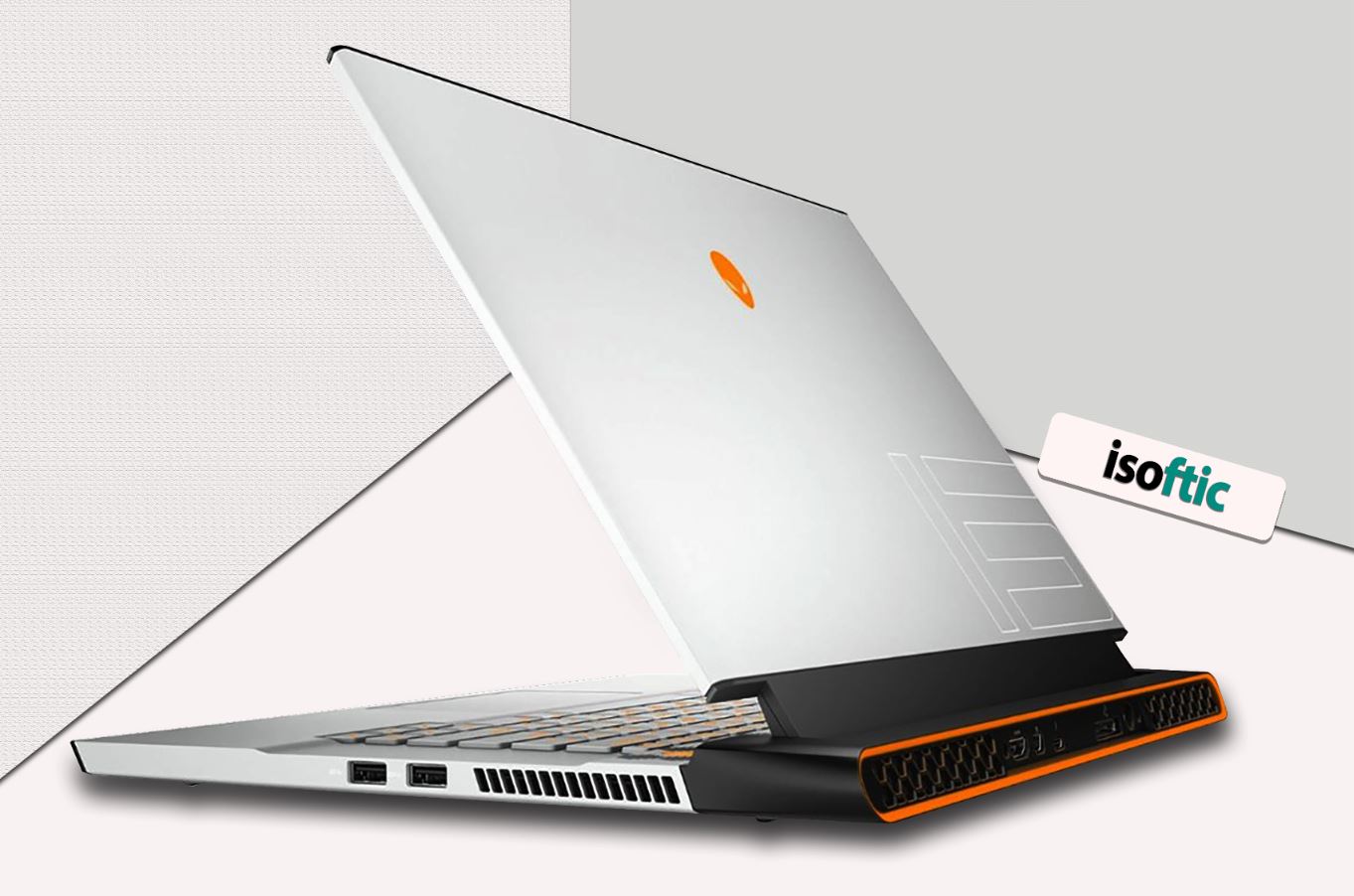 The Alienware m15 is a superb gaming laptop in basically every way. Alienware is known for its big and chunky gaming rigs but finally has joined the thin-and-light league with great thermals.
The m15 comes in two different colors, epic silver or nebula red. The rest of the housing is black, with also a soft matte black finish found on the sides and below the keyboard, and a glossy black finish above the keyboard and around the display. I love the overall look; it's a welcome mixture of subdued and shiny chassis.
Stick through this article to find out why the m15 is an amazing and beautiful gaming system.
Dell Alienware m15 Specifications:
BRAND
Dell
MODEL
AWYA15-7749WHT-PUS
PROCESSOR:
SPEED:
Intel Core i7-9750H
2.6GHz turbo 4.5Hz
STORAGE:
SSD:
HDD:
SSD M.2
256GB
none
PORT
Headphone Jack
Number of USB Ports
Number of USB 3.0 Type A Ports
Number of USB 3.1 Type C Ports
Number of HDMI Outputs
Number of Thunderbolt Ports
Number of Thunderbolt 3 Ports

YES
3
3
1
1
1
1
MEMORY:
SLOT:
16GB RAM, SUPPORT 32GB
2
GRAPHIC:
SIZE:
NVIDIA GeForce RTX 2060
6B RAM GDDR6
OPTICAL DRIVE
None
OPERATING SYSTEM
Windows 10 pro
BATTERY
90 WHrs, 4-cell Li-ion battery
DISPLAY:
RESOLUTION:

15.6 inch IPS PANEL
1920 x 1080 (Full HD) 144Hz
MANUFACTURER WARRANTY
1 Year
RELEASE YEAR
2019
BLUETOOTH
YES./ 5.0
SIZE
14.2  x 10.9  x 0.8 inch; W x D x H
WEIGHT
4.76 pounds
DELL ALIENWARE M15 REVIEW
DESIGN
Its also known for the ton of ventilation that comes with. The back of the laptop has two strips of honeycomb-shaped vents, which are backed by a small assortment of ports. This is where you'll find the power, Thunderbolt 3, Mini DisplayPort, HDMI, and the Alienware Graphics Amplifier ports. Ventilation doesn't end at this point.
SIZE AND WEIGHT
The size of the laptop is 14.2inch wide, 10.9inch in-depth, and0.8inch Height. And it's quite slim for a 15-inch Dell gaming laptop since most of their gaming laptops are known for being thick, And the weight of the laptop is 4.76 pounds.
DISPLAY
The screen on the m15 has thinner bezels by the sides but by the top and bottom part of the screen still has a bit thicker bezels, but this seems to be an improvement gesture from Dell since most of their laptops do come with all square thick bezels. There are different panel configurations on offer, and also a
4k option and an OLED display option. Also, the 1080p option looks sharp on a 15.6-inch display, and it's a better fit for the capabilities of modern gaming laptops.
The entry-level choice is a standard 144Hz display. You can upgrade from there to a 240Hz refresh rate. The upgrade panels also include Tobii eye­tracking technology but, to my dismay, it doesn't support Windows Hello facial login.
KEYBOARD
The keyboard is very suitable and comfortable to type on. In a laptop this thin, I simply don't expect a ton of key travel, but not only do these keys go deep, but they're also comfortable as hell to type on. They're not clicky, nor are they loud, and almost feel cushiony; the Alienware m15 keyboard is the best of both worlds and should make a lot of people happy.
SOUND
One issue here might be the speakers. Whether you're playing games, watching movies, or listening to music, you should be able to do it without having to rely on headphones. I even got excited at the honeycomb vents at the top, thinking it'd be a speaker grille. Alas, all the sound gets blasted out of the bottom of the laptop and it's quite good enough but not the best out there.
The display is generally excellent, so if you pair it with a gaming headset, you should still expect a nice experience.
PORTS
This thing is stuffed with ports. Take deep breaths readers. Okay. Ready?
It has a proprietary power jack, an Ethernet port, two USB-A 3.1 Gen 1 ports, one USB-A USB 3.1 Gen 1 port with PowerShare, one Thunderbolt 3 port, one Alienware Graphics Amplifier port, one HDMI 2.0b out, one Mini-DisplayPort 1.4, one combo headphone/microphone jack, and one lock slot.
That's a lot. And it gets better. Many ports are on the rear of the laptop, making cable management easy.
PROCESSOR
The machine delivers all the usual benefits of the Core i7-9750H. As a six-core CPU, it's ideal for tasks like video editing, where it's 40 to 50 percent faster than a last-generation Core i7-7700HQ. It's also faster in single-threaded workloads by around 10 percent, which does help reduce CPU deadlocks in serious productivity and bottlenecks in some games.
GRAPHICS
Part of the reason the m15 is so thin is the use of Nvidia's GPUs — in this case, I am talking about the RTX 2060 GPU with 6GB of VRAM. Focused on power efficiency, Nvidia claims these chips allow for a slimmer and quieter machine without sacrificing too much power which is true in the case of the m15.
STORAGE
The base configuration comes with 256GB SSD's. You can upgrade the (2X) 512GB SSDs in RAID 0 (which essentially gives you one 1TB drive) to (2X) 2TB SSDs for an extra $800, but do you need 4TB of SSD storage?
MEMORY
It has 16 GB of DDR4 2666MHZ RAM installed and, in terms of upgrade, the two upgradeable RAM slots allow for a maximum of 32GB, the maximum memory the laptop can take.
BATTERY
It's probably not surprising, but the Alienware m15 isn't exactly a laptop that you'll be able to work on all day without needing a battery.
The PCMark8 battery test doesn't fare much better, either, only lasting 2 hours and 26 minutes. This is all with the display turned down to 50% brightness and all the external lighting disabled. We honestly weren't expecting much out of this laptop in terms of battery life, and this is about what we expect. If you're going to be carrying this laptop around, just be ready to haul around the power brick as well.
The m15 was able to last through a video loop for 221 minutes. That's three hours and 41 minutes worth of constant video playing at 50-percent brightness, with Bluetooth, Wi-Fi, and any backlighting turned off. It's impressive that Alienware has been able to put that much battery power into a chassis that's as thin as the m15.
Conclusion
The OLED-equipped Alienware m15 looks amazing, both in terms of its design and its display. And as long as you're willing to make some concessions when it comes to performance, you can even game at its full resolution. The software is a bit buggy, but the hardware is top-notch.