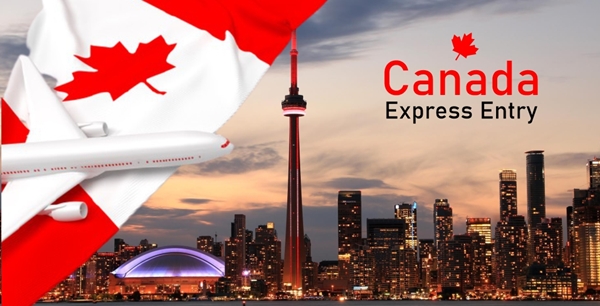 If you're looking to get permanent residency in Canada, Express Entry to Canada is likely your best option. The Canadian Express Entry system is one of the most popular immigration programs for skilled foreign workers due to the quick Express Entry processing times – the focus is on keeping families intact and the fantastic opportunities it can present to applicants.
The Express Entry system was started in 2015 by Immigration, Refugees and Citizenship Canada (IRCC) – a division of the government of Canada which handles all Canadian immigration as a means of enabling skilled foreign workers and their families to become permanent residents in Canada as soon as possible. Because the Express Entry processing time is as little as six months, the Canadian economy is in desperate need of skilled workers in a multitude of occupations and industries throughout Canada.
According to its website, the Government of Canada is currently on track to meet its annual target of presenting 431, 645 immigrants with a permanent residency by the end of 2022. A significant portion of these was presented through the Express Entry system.
How Does the Canada Express Entry System work?
To gain permanent residency via Express Entry Canada, applicants must create an Express Entry profile. To create this profile, they need to enter the following specific details about themselves:
Age
Education
Language Skills
Work experience
Marital Status
Links to Canada
These details are calculated through the Comprehensive Ranking System (CRS) to produce a CRS score. This score is out of 1200 and is calculated based on the above factors, as well as:
Skills Transferability
French Language Skills
If any of their post-secondary education was in Canada
If they have a Canadian job offer
If they have a Provincial Nomination
Once an applicant's score is determined, they are entered into an Express Entry pool. Every two weeks, there is an Express Entry draw where all applicants with a score higher than a certain number are presented with an Invitation to Apply (ITA) for permanent residency in Canada. The minimum requirements change with each draw, depending on the size and strength of the Express Entry pool at the time of the draw.
Keep Up To Date With The Latest Express Entry Draw
It's of the utmost importance that all applicants keep up to date with the results of the most recent Express Entry draws. This is not only a means to help alert applicants to the status of their Express Entry profile but also helps to isolate the direction the score requirements are going.
Once an applicant gets their ITA, they will have 60 days to submit their supporting documentation, pay their processing fees, and submit their final Canada Express Entry application to become a Canadian permanent resident. If there are no issues, the applicant should receive their permanent residence card in as little as six months. If you want to know how to get started on this process, click the button below.
What are the Express Entry Programs?
The Express Entry system is made up of three programs. These programs are as follows:
Federal Skilled Worker Program (FSWP)
This program is specifically for skilled workers with a degree or equivalent from a recognized tertiary educational institution. To learn more about the FSWP, the eligibility requirements, and how to apply, have a look at this in-depth guide.
Federal Skilled Trades Program (FSTP)
This program is specifically for skilled tradespeople with a recognized diploma or certified job-specific training in their occupation. To learn more about FSTP and how to qualify, here's a detailed breakdown.
Canadian Experience Class (CEC)
This program is specifically for skilled workers who have been living and working in Canada for at least 12 consecutive months via a study permit, work permit, or Working Holiday Visa. If you've been in Canada for that time and feel you would be eligible for the CEC, have a look at this page for a full breakdown.
How to Apply for Express Entry Canada
Your journey to permanent residency can be broken down into 5 steps.
Step 1: Check Your Eligibility
The first crucial step of your Canada Express Entry application process is to ensure your eligibility for your chosen program.
Each of the Express Entry Programs has its specific requirements, but to be considered for any Express Entry Program, there are a few immovable requirements.
Work Experience
To be eligible for an Express Entry Program, an applicant must have at least one year of continuous full-time (or the equivalent hours in part-time) skilled work experience.
Often, for the IRCCto consider an applicant's work experience valid, the applicant must get a National Occupational Classification (NOC). Every occupation has a different NOC code. To find your NOC Code, here's a basic breakdown of how the NOC works.
As certain jobs are in very high demand in Canada, the IRCC tends to offer ITAs to those with in-demand jobs, even if they have slightly lower CRS scores than those whose jobs aren't in demand. For your convenience, here's a directory of the top in-demand jobs in Canada.
Language Ability
Express Entry applicants must demonstrate a minimum Canadian Language Benchmark (CLB) score of seven in one of the Canadian official languages – English or French.
The CLB accepts several tests for each language. An applicant's CLB is determined based on their language test results.
For English, there is the International English Language Testing System (IELTS) and the Canadian English Language Proficiency Index Program (CELPIP).
For French, there are the Test d'Evaluation de Français (TEF) and the Test de Connaissance du Français (TCF).
Both tests cover four major pillars of language:
Listening
Reading
Writing
Speaking
What is IELTS?
The IELTS is the most recognized English language testing system in the world – it is not only a valid test for entrance to Canada but can also be required for certain jobs and educational institutions.
If you feel IELTS is the direction for you, have a look at our IELTS Course to help you get the best possible result from your language test.
What is CELPIP?
While CELPIP isn't as widely recognized, it's far more accessible. You can sit the test entirely online from any country and it is fully accepted by the Canadian government.
However, if you're unsure of which test is best for you, have a look at this article – it breaks down the pros and cons of both tests to help you find which is best for you.
Tertiary Education
The applicant must have completed a post-secondary educational qualification, deemed equivalent to Canadian standards via an Educational Credential Assessment (ECA).
If you want to know what an ECA entails and how to get one, here's a handy guide through each step to make sure your qualifications are evaluated correctly.
The FSTP participants and those planning to work in regulated occupations like medicine – these participants may need their skills and training assessed by a Canadian government agency.
Criminal Record
Have no criminal record, as shown through a clear police background check. If you want to know what crimes will immediately make you completely inadmissible to Canada, here's a simple breakdown.
Medical Certification
Applicants must be in good health, as shown through a medical exam by a certified medical professional. This is done to ensure that excessive pressure is not being placed on Canada's public health system.
If you're wondering what medical issues could cause you to be inadmissible to Canada, have a look at this article.
Travel Documents
All applicants must have a legitimate and valid travel document such as a passport to submit an Express Entry profile.
Applicants must ensure all of their documents must remain valid throughout the entire Express Entry process. If a document is invalid, the IRCC will ask the applicant for valid documentation. This will massively extend the length of the Express Entry processing time.
If you fulfill all of these requirements, you're starting on the right foot. However, you still need to fulfill the requirements of your Express Entry Program. You can find these requirements here on the FSWP, FSTP, and CEC pages.
Step 2: Calculate Your CRS Score
Once you've ensured your eligibility, a great idea before submitting your application is to work out your CRS score. Knowing your CRS score will give you a clear idea of how well you'll likely do in the coming Express Entry draws. The best way to do this is via the government of Canada's CRS calculator which you can find on their website.
Alternatively, if you would like a clear indication of what your CRS score will be from a Registered Canadian Immigration Consultant, click the button below.
If you want to ensure you have the best score possible before you apply, here's a guide on how to improve your CRS score and all the major and minor ways you can ensure you have the best possible chance to move to Canada.
Step 3: Gather Your Documents
Once you've ensured your eligibility and maximized your CRS score, it's time to create your Express Entry profile. However, to do that, you need to assemble a host of documents to accurately represent your details. It also helps to have your documents sourced before you apply. Once you get your ITA, you will only have 60 days to source all of them. The documents needed are as follows:
National Occupation Classification (NOC) – This is the Canadian classification for your current job, explicitly referring to the type and level of your employment.
Education credential assessment report – This assessment is done on your education to ensure it matches Canadian standards.
Proof of funds showing sufficient settlement funds – To know how much money you need to get permanent residency, have a look at this step-by-step breakdown.
Results of a medical exam from certified health professionals;
Job letters from past employers legitimize your work experience.
Canadian job offer (If you have one)
Provincial Nomination (If you have one)
Note that applicants must remain honest in the information they provide. Failure in doing so will result in the application being delayed and rejected.
Ask An RCIC
What are the best ways to have your documents validated for Canadian immigration applications?
You should send them to an RCIC to check if the documents you have are suitable for the immigration program you're applying for.
Step 4: Create Your Express Entry Profile
Once you have all of your documentation and are satisfied with your CRS score, create your Express Entry profile on the Canadian government website. The Canadian government tries to make the process as straightforward as possible but, if you want to ensure your profile makes a strong impression, look at this handy guide.
Step 5: Get an ITA, Pay Your Fees, and Apply
Once your Express Entry profile is complete, you must monitor every Express Entry draw to see what the minimum requirement is, and whether or not you'll be eligible to get your ITA. If you do receive an ITA, you'll be notified on your profile.
Once you've received your ITA, you'll have 60 days to pay your processing fees and submit all of your corroborating documentation.
The processing fees are as follows:
Application Processing Fee 850 CA$
Right of Permanent Residence Fee (RPRF) 515 CA$
Include a dependent child (per child) 230 CA$
Keep in Mind
Each adult has to pay their own fees: meaning you need to pay processing fees for yourself and your partner if you're bringing a partner with you.
So, with all of that in mind, getting on board with the Express Entry program can prove to be a fast and relatively painless process, if you're eligible. The most important thing is to make sure you're well-prepared to make your move to Canada before you apply.
Good Luck