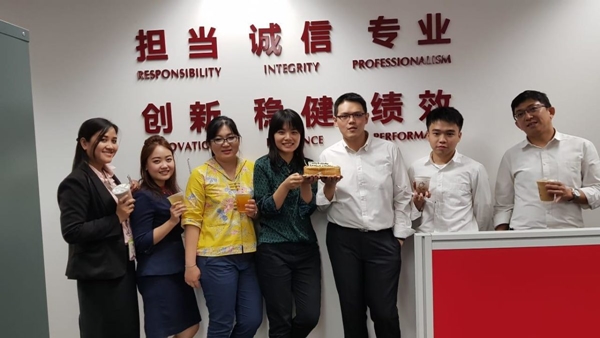 Online Internships in China – Give yourself the edge when applying for jobs with a two-month online internship placement with a company based in China. You can select which industry sector you'd like to gain experience in and choose a start date that suits you.
Speak to our partners to find out more about which industries and companies they offer online internships in and the additional training and development opportunities available to you during the placement.
Virtual Internships
Applications are now open (for applicants from Scotland and Wales) – apply by 14 August 2022.
Pagoda Projects
Applications are now open (for applicants from Scotland) – apply by 2 September 2022.
Please note: this is an online internship program and does not involve travel to China.
Why should I apply for Online Internships in China?
Whatever your ambitions for the future, an online internship with a company based in China can help you stand out from the crowd. New industries and work opportunities in China are rising faster than the skyscrapers that accommodate them. Companies across the world will value your international experience and increased cultural awareness.
You'll also benefit from access to online training courses, mentors, and coaches to develop your business and cultural awareness, offering you valuable insight into the customs and traditions of China.
Who can apply?
Applicants must:
be at least 18 years old
be currently enrolled at, or graduated in the last two years from, a university in England, Scotland or Wales
have completed at least one academic year at the university
be a UK passport holder if studying in England or Wales
be the UK or EU passport holder if studying in Scotland
have achieved, or be on track to achieve, a 2:1 degree
meet our student finance eligibility criteria
not be in receipt of any other Generation UK funding.
You cannot apply if you have previously been on a Generation UK internship, or taken part in a Generation UK scholarship program.
Consideration will be given to applicants who received an offer for the Generation UK internship program in 2019–20. If you have any questions about your situation, please contact us at gen.uk@britishcouncil.org.cn.
If you aren't eligible, please take a look at our other opportunities to study, train or work abroad.
Student finance eligibility criteria
Generation UK is committed to social mobility and widening participation in the higher education sector. We focus on helping talented first-generation scholars and students from low-income backgrounds.
To be eligible for the Generation UK internship program, you must meet one of the following criteria, depending on which year you began your studies. If you're currently a postgraduate student, you must have met the criteria during your undergraduate degree.
Will my application cost me anything?
No – all online internships are fully funded. Generation UK funding covers:
all placement fees
dedicated support during your online placement.
You will also have access to:
online training opportunities
weekly online Mandarin classes
regular live online events
mentorship and coaching
post-program support.
Do I need to speak Mandarin?
No, you don't need any prior Chinese experience. Your language skills do not form part of your application.
During your online internship, all your projects will be in English and an English-speaking supervisor will support and manage you during your placement. You'll improve your Mandarin throughout the placement through weekly online lessons.
When do internships start?
The online internships are flexible, with start dates in June or July 2022. Choose the date that best suits you. The placements we offer funding for are for a two-month placement.
You must be available for the entire duration of the placement. It is not possible to extend internships beyond the agreed programs. We do not provide funding retrospectively for placements obtained independently through our delivery partners, or from other companies.
What is the selection process?
Online internships are competitive. Funding will be awarded to candidates who have a strong academic record and can demonstrate an interest in China. There are three stages of assessment:
written application
telephone/video interview
final selection by the British Council.
We consider the following in assessing your application:
academic achievement
your interest in your chosen industry
your interest in China.
Apply online
Online Internships in China; We work with two partners: Virtual Internships and Pagoda Projects to deliver the online internships. Apply directly to one of them for Generation UK funding, using the application forms on their websites. Please note, that you can only apply to one of our delivery partners. If you apply to both, your applications will be disqualified.
Make sure you have electronic copies of the following documentation ready to submit during the application process:
a scanned copy of your passport
your scanned student finance documents – see student finance eligibility criteria
your most recent grade transcript. Most universities will be able to provide one. If not, we can accept a screenshot of your grades in your university system, signed, dated, and verified by your academic referee or university registrar.
one academic reference typed on university letterhead and signed by the referee. The referee should include their academic relationship with you, your academic profile, and why they recommend you for the program
in your CV.
Please submit clear, scanned copies of your documents. We cannot accept illegible documents or photographs of documents unless otherwise specified. Your application will not be considered if you do not submit the correct documentation.
Apply to one of the following delivery partners:
Virtual Internships — apply by 14 August 2022. Open to applicants from Scotland and Wales.
Pagoda Projects — apply by 15 July 2022. Open to applicants from Scotland only.
When applying, take care to stay on the dedicated Generation UK page and submit your application on this page. Do not click any other apply buttons that direct away from this page. You'll receive an automatic response from our delivery partner when they have received your application. We are unable to comment on unsuccessful applications.
Further information
If you have questions, send an email at gen.uk@britishcouncil.org.cn.